Our Centre of Competence (CoC) for Overhead Lines offers customized, comprehensive component and package solutions for low-, medium- and high-voltage networks up to 1000 kV. The company has access to all the necessary resources and expertise and can deliver a wide range of high quality components and packages for today's power supply systems and those of the future. This range includes SILCOSIL© composite insulators, complete insulator strings, fittings for insulator sets and vibration damping products including vibration recorders and warning spheres.
1.0 Insulator Sets for High Voltage Applications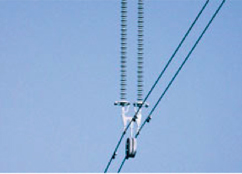 Our products range for voltages from 1. 5 kV up to 1000 kV. We have experience, gained over decades in the supply, production and application of complete insulator sets, qualifies us as a most competent and reliable partner.
1.1 Composite Insulators for High Voltage Applications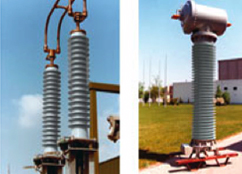 Silicone Rubber has been used as housing material. The first applications were hollow core insulators for cable terminations and current transformers, The voltage range of the composite insulators is from 1,5 kV up to 1000 kV for AC and DC applications.
1.2 Composite Insulators for Medium Voltage Applications

t is worth mentioning that the materials and design rules, which have been successfully proven and used for the transmission level for decades, are also applied for the distribution class level.
Long rod Insulators
A full range of high quality silicone long rod insulators from 1,5 kV to 145 kV for worldwide markets is provided.
Line Post Insulators
These insulators provide a technically superior replacement for the traditional ceramic type post insulator, used at the low to medium distribution voltage range from 1,5 kV to 145 kV.
Guy Strain Insulators
A wide range of guy strain insulators for the purposes of guy wire insulation on distribution line networks is part of the standard programmed.
Cutout Fuse Holders
The cutouts provide protection to power lines and various devices on those lines such as transformers and capacitor banks. The range of cutouts is for 12 kV, 24 kV and 36 kV.
2.0 Hardware for Overhead Lines
String Fittings
Proper interaction to conductors and insulators, corrosion resistance and easy assembly.
Suspension Clamp
Suspension clamps are designed based on all the latest knowledge from testing and from successful service operation over many years. According to customer requirements various types of clamps are available such as:
Tension Clamps
For tension clamps, we offers three different systems, i.e. compression dead-end clamps, bolted strain clamps, and wedge-type tension clamps. The compression clamps are made of high quality aluminum alloy and used up to 1000 kN. Clamps are available for all types of conductors.
3.0 Spacer Dampers, Stockbridge Dampers, Recorders and Warning Spheres

Triple Spacer Damper
Spacer dampers are specifically designed and coordinated to provide damping against conductor motions caused by wind. In particular the spacer dampers control the levels of Aeolian vibration and sub span oscillation within the accepted safety limits, under all service conditions and for the expected life time of the line. We offers a complete range of spacer dampers for two, three, four and six bundles, with spacing ranges from 300 to 600 mm.
Stockbridge Damper
Range of Stockbridge dampers is designed to dissipate energy from all types of conductors, shield wires and OPGW cables caused by wind-induced motions. Many tests are needed to prove a successful damper design, which includes corrosion resistance, damping performance and fatigue behavior. These tests are necessarily supplemented by electrical tests in regard to corona and RIV.
Vibration Recorder
As the ultimate means of checking damping systems or to investigate the cause of conductor damages, we offers vibration recorders. These can be used to easily measure vibrations on lines in operation. Moreover, the component of wind velocity acting perpendicularly to the line and the ambient temperature can be recorded. The conductor vibration data can be recorded and converted. By autonomous, long-term and direct measurements, an assessment of all critical line sections can be made.
Warning Sphere
Warning sphere has a diameter of 600 mm and is especially manufactured to avoid the loss of color and UV-degradation by using a special material and painting technology. Optimizations have been applied to eliminate clamp loosening and audible noise due to vibration. Installation costs can be reduced thanks to its simple installation. The sphere is available in various colors and for several conductor diameters.